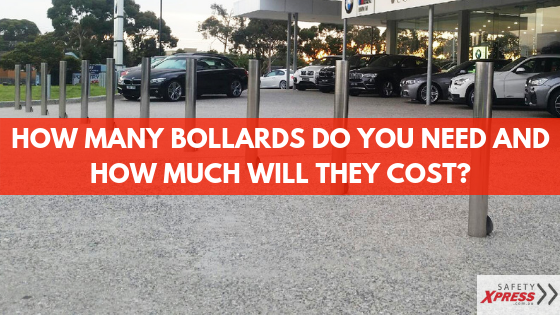 When it comes to installing bollards, you need to gather a bit of information, including what type of bollards will serve your purpose, how they can be best installed, where they must be placed, how many bollards will you need and how much will they cost!
Getting these answers will enable you to make the most out of your bollards.
In this blog, we will answer all these questions for you.
Let's begin with the application of bollards.
Why Should You Consider Installing Bollards?
There are four main situations when bollards can play a significant role:
Security - Consider installing bollards if your major aim is to protect the shop front, roller doors as well as other entries of your premises. Bollards can be a strong security solution against ram-raids and burglaries.
Safety - Bollards also act as a great safety measure. If you have a store on the roadside, placing them accordingly can enhance the safety level of pedestrians, drivers and cyclists.
Asset Protection - These short vertical posts act as a strong barrier that further protect your valuable assets and building structures from damage. Thus, installing bollards can give you peace of mind that your assets are secured.
Access Control – The presence of bollards denies an unauthorised access. This controls traffic and parking, that ultimately helps you have a well-managed space.
Where Can You Install Bollards?
There are a number of places that can benefit from the installation of bollards:
1) Cityscapes
Pedestrian footpaths

Building entrances

Parking areas
2) Urban Landscapes
Public parks

Footpaths

Cyclist parking spaces
3) Commercial
4) Airports
Car parks

Airside

Walkways
5) Educational Facilities
Schools

Universities

Other educational premises
6) Industries
Factories

Warehouses

Distribution centres
How Many Bollards Do You Need?
If your store demands bollard protection, the next question that pops up is - how many bollards do you need?
Bollards offer great security and yet complete accessibility. Having the right combination of bollards will work best to protect both: people as well as your property.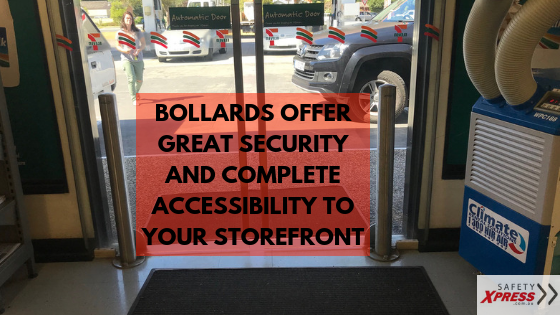 So, what should you consider while deciding the number of bollards for your store?
A proper selection of bollards can provide you with the safety you desire. Depending on the level of high or low traffic that you get, you should opt for the combinations of removable, fixed and collapsible bollards to help the cause. No matter which bollard type you choose, make sure that it allows an easy access to assist you and the pedestrians in situations like fire and medical emergencies.
Safety should definitely be your priority in bollard installation, but it shouldn't disturb the visual aesthetic of your location. Consider identifying the number of bollards that you truly require. Further, secure your location in a way that the bollards do not obstruct the view of your store. Placing bollards strategically will allow a location to stay secure and accessible without blocking its view. Doing so will truly protect your space as well as everyone around it.
How Far Should You Place the Bollards?
One of the key factors to decide how many bollards you will need is your environment. Like, for an instance, you need bollards to protect your inventory in your warehouse.
While there are no specific Australian Standards on how far the bollards must be placed, there are still certain guidelines to keep in mind. The way you place your bollards should block the vehicle access while at the same time should allow the pedestrians to walk through easily.
When it comes to placing bollards, it is recommended the spacing between each bollard should be no greater than 1500mm/1.5 meters. The reason for that is – the average-sized car is around 1.6 meters in width. So, this prevents allowing any kind of vehicle through the gaps between bollards.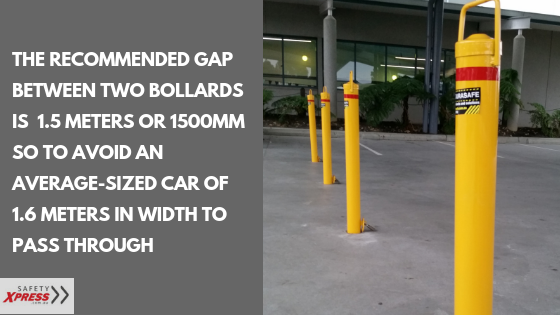 How Much Will the Bollards Cost?
The cost of bollards will vary on the type, material and quantity you are looking for. If you want to explore different types of bollards and want to get insights about costing, Safety Xpress can help!
We are one of the leading suppliers of safety equipment and provide a variety of bollards to suit your purpose of safety and accessibility.
Identify your needs and explore our range of bollards to make an informed decision:
#1 Above Ground or Surface Mount Bollards
If you are looking for some customised options, our billboard bollards can serve the purpose. We do custom designs with your logo as well as other specifications to ensure it increases your brand value.
The general non-customised surface mount bollards start from $108.90 and the billboard bollards will cost you around $352.
#2 Below Ground Bollards
Are you looking for a solution that can protect your assets in your store? The in-ground bollards protect your assets in the best way possible. They are available in a range of finishes and heights; and are typically designed for strength. So, when protecting your assets is your priority, consider below ground bollards.
Our below ground bollards range between $99 to $251.90.
#3 Removable Bollards
When accessibility is your concern, opt for our removable bollards. You can place them in the required areas and remove them easily when you want access. These removable bollards are available in both styles: surface mount and below ground. You can choose them according to your purpose.
You can buy these removable bollards from anywhere between $174.90 and $251.90.
#4 Bollards for Parking Protection
We even have a solution for you when you specifically need bollards for parking protection. Available in different finishes and heights, these bollards will protect your space, exactly the way you want. The best part is; you can even fold them down when not in use.
Our different parking bollards are available from $139.70 to $324.50.
#5 Flexible Bollards
The flexible bollards are light in weight and have a reflective tape that offers maximum visibility. If you want to upgrade your security for both - the parking space and at the entrance, opt for these flexible bollards.
Depending on what you choose, the flexible bollards will cost you anywhere between $53.90 and $324.50.
Whatever type of bollards you choose, ensure that you are placing them in the right way so they meet your purpose entirely.
You can even explore and find out more about our range of bollards on our website. Do not miss the Spring Bollard Sale that is running currently. All you need to do is use our promo codes and get an additional discount on any of the bollards you buy. Conditions apply.
If you still have any queries, we are available on 1300 049 246 or contact us via email at [email protected]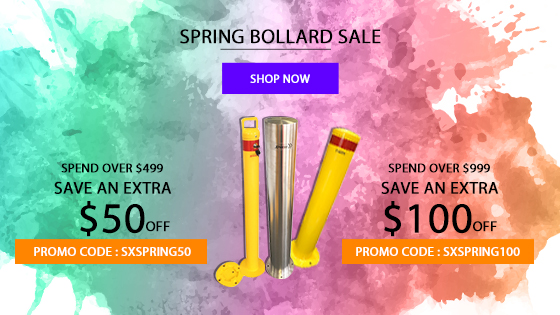 Recent Posts
At Safety Xpress, we have 3 types of Australian compliant speed humps. All of which suit different …

Handrails are a key feature of many buildings. Also known as safety railing, handrails preve …

Staircases, walkways, pool decks, balconies - railings are found everywhere. Imagine a proper …