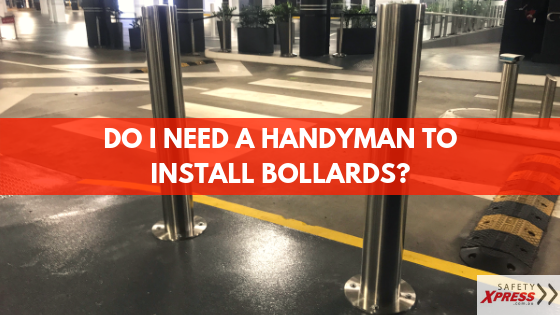 So, you have decided to order bollards to increase the safety levels? That's certainly a great idea and we always recommend it to businesses, especially retail stores. Moreover, with our Spring Bollard Sale going on, it's the perfect time to buy from our range of bollards as you can save up to $100 by simply using two promo codes. (More on this later)
Now, your next obvious question will be - how will you install these bollards? Will you need a handyman for it?
The short answer is NO!
The majority of our bollards can easily be installed on your own. You just need the right tools to install bollards.
To help you further, here are a few effective tips for bollard installation:
#1 Keep bollards packed till you install them
It is recommended to keep the bollards and associated hardware or fittings intact, without removing the packaging. This will avoid unnecessary damage or loss of fittings before they are placed and installed.
#2 Ensure the required safety
If you are unsure about the hazards at the installation site, it is advisable to carry out a brief scan and assessment of the site. This will ensure your bollards installation process is safe.
#3 Review all the materials and instructions before installation
Read the installation guide carefully. Check if you have all the correct materials in place. Also, make sure you are ready with the right tools and equipment for safe lifting and placement of the bollards.
#4 Measure and Mark Alignment
Before starting the installation, measure and mark all the locations where you want to install the bollards. You can use chalk and a measuring tape. It is recommended the spacing between each bollard should be no greater than 1500mm/1.5 meters. In our last blog, we explained the spacing between bollards in detail. You can give it a read for more details.
#5 Never drag or slide the bollards
Dragging or sliding the bollards can damage them. If the bollards have to be rested on the ground, use a packaging material to ensure they are cushioned enough to avoid abrasions or damage to the mechanisms.
#6 Prepare touch-ups if required
If, for any reason, the bollards get scratched during the installation process, simply give them a touch-up with paint. It is always better to cover the scratches as soon as possible to prevent rust from forming.
Installation Guide for Our Steel Surface Mount Bollards
What Will You Need for Installation?
A hammer drill and a

14mm masonry drill bit

M10 screw fixings (these are supplied with the bollard)

17mm socket

Hammer

Industrial vacuum or a hand broom (optional)
What is the Process?
To carry out the installation process seamlessly, it is recommended that the bollards are placed on a flat surface.
Follow the below mentioned simple steps to install the bollards without a handyman:
1.The first and foremost step is to read the instructions thoroughly.
2.Next, identify the place where you want the bollards to be installed. When you want to install more than one bollard, it is recommended to mark the ground. This will assist you in having uniformly placed bollards.
3.Drill a guide hole in the concrete using a hammer drill. Do this through each hole in the bollard with the help of a 14mm masonry drill bit. This step is done to mark the surface so that you easily know where to continue to drill.
4.Remove the bollard. Clean the place with the industrial vacuum or a hand broom to brush away the concrete dust.
5.Keep on drilling each guide hole up to an approximate depth of 120mm.
6.Again, clean the place to brush or vacuum away the concrete dust.
7.Once cleaned, put the plastic plug component in the drilled hole to further hammer in.
8.Next, place the bollards over the holes. Once you have lined them up, put the M10 screws through the bollard and further into the plastic plugs.
9.Tighten the M10 screws by using your 17mm socket. But, ensure that the screws are not over tightened.
We can supply you with the correct 14mm drill bit for installing your bollards. This Masonry Drill Bit can be used in conjunction with our bollard, speed hump and wheel stop fixing kits.
Moreover, we have a PDF version of the installation guide for each kind of bollard on our website, like this one. You can find it below the product description section on each bollard page.
Your safety should be the first priority while carrying out this installation process. We recommend you use and wear the correct safety gear to avoid any injuries while installing bollards.
If You Just Want Someone to Do It for You
We offer an installation service for metropolitan Melbourne customers. Some bollards require specialised installation, for instance in-ground bollards which need to be core-drilled into existing concrete or set into new concrete. We are able to assist you with your requirements and as well as supplying you with the bollard to suit your needs, we can also install them at your site. Even though above ground bollards can be easily installed by a handy man, it may be preferable to get the job done by an expert, we can fill that need too. Minimum call out fees do apply.
How Quickly Can You Get Bollards From Us?
We deliver Australia-wide. When you place an order with us, we will provide you with an estimate on shipping and delivery dates according to the availability and customisations required.
If you order before noon, we can dispatch on the same day. We will need a bit longer for billboard bollards – as they need to be customised for your business. You just need to send us your company logo or a custom message for your billboard bollards and we will deliver your bollards to your doorstep.
You can be guided by the following times as a general rule if we receive your order by 12 noon between Monday to Friday:
| | |
| --- | --- |
| Melbourne | Next day delivery |
| Sydney (if order received AM) | Next day delivery |
| Sydney (if order received PM) | 2 days |
| Queensland | 3-4 days |
| Tasmania | 2 days |
| Western Australia | 4 days |
| Far North Queensland | 4-5 days |
| South Australia | 3 day |
Unbeatable Prices from Safety Xpress
We are confident about our products and quality. That's why all our products carry a 12-month manufacturer's warranty. We also offer a price beat guarantee on all our products. If you find a lower priced item that is equivalent to our products listed on our website, Safety Xpress will beat the price by 5%.
Spring Bollard Sale
Our Spring Bollard Sale is now on! You can shop any bollards from our huge range and get a discount of up to $100. You can save an extra $100 when you spend $999 or $50 when you spend $499! Promo codes below: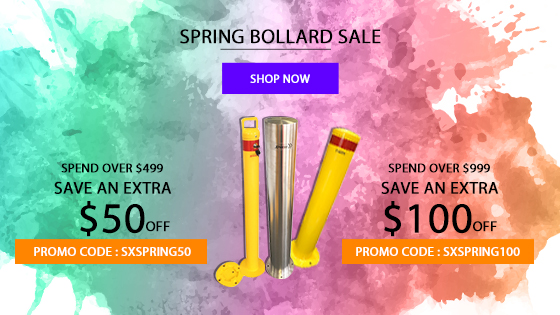 If you still have any queries, we are available on 1300 049 246 or contact us via email at [email protected]. Our friendly and professional team will be there to answer all your queries while assisting you through the installation process.
Recent Posts
At Safety Xpress, we have 3 types of Australian compliant speed humps. All of which suit different …

Handrails are a key feature of many buildings. Also known as safety railing, handrails preve …

Staircases, walkways, pool decks, balconies - railings are found everywhere. Imagine a proper …