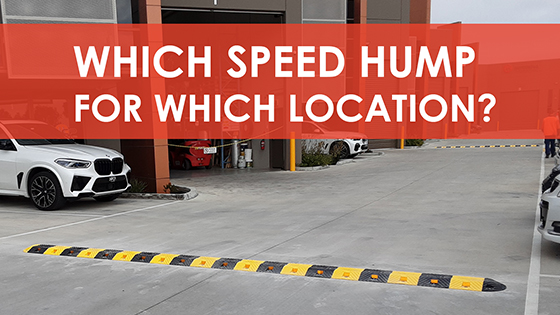 At Safety Xpress, we have 3 types of Australian compliant speed humps. All of which suit different speed reducing situations. Our Ultimate Hump has a 100-ton load rating and is ideal for truck and bus depos and logistics warehousing. The Ultimate speed hump is ideal for when traffic is passing over them to slow traffic down without the vehicle stopping.
If they are installed anywhere where a vehicle will stop such as a boom gate or pedestrian crossing, the tyres will spin if it has been raining which will create heat and will then cause the speed hump to melt. This will also happen if cars are doing burn outs on them.
For speedhumps that need to be installed near boom gates or pedestrian crossings, rubber or steel speed humps will be the preferred option. Although very strong and very durable, steel speed humps can be a little noisy on concrete and when they are in the hot summer they will get extremely hot. On a hot summers day, the asphalt also gets extremely hot and softens so the combination of the soft asphalt and the heat from the steel speed hump will cause the steel speed hump to sink into the asphalt and slowly destroy the asphalt it was installed onto.
You don't have any of the above issues with rubber speed humps. however, any rubber product will deteriorate in the harsh Australian environment. In time the weather will cause the rubber to crack and can deteriorate quite quickly. Rubber speed humps will wear faster than the other 2 speed humps but in certain locations would be the preferred option. As you can see, all speed humps have their pros and cons and thought must be put into the surrounding environment as well as the location.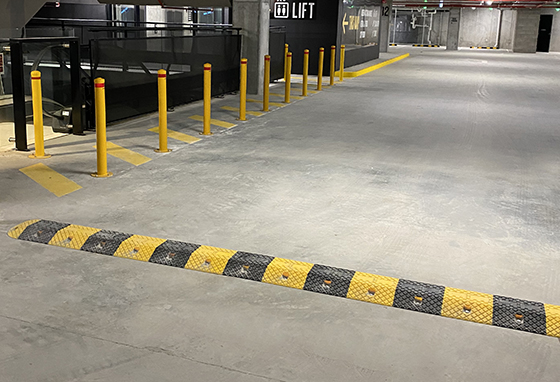 Recent Posts
At Safety Xpress, we have 3 types of Australian compliant speed humps. All of which suit different …

Handrails are a key feature of many buildings. Also known as safety railing, handrails preve …

Staircases, walkways, pool decks, balconies - railings are found everywhere. Imagine a proper …