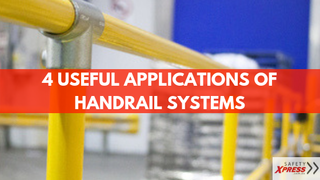 Handrails are a key feature of many buildings. Also known as safety railing, handrails prevent people from slipping and falling off stairways, platforms, walkways or landings. They are specifically designed to enhance the stability and safety of workers. If properly installed and maintained, handrail systems can ensure efficient operations, safety and lowest possible costs.
The handrail system can be a great help for people with disabilities, seniors and others with mobility issues.
Choose Handrails That Don't Need Welding
Safety Xpress is Australia's leading supplier of no-weld, modular handrail systems that are compliant with Australian Safety Standards. Unlike traditional welded railing systems, our EzyRail Modular Handrail Systems remove on-site fabrication whilst reducing installation expenditure. It doesn't require any welding onsite and the pieces fit together easily.
Our EzyRail Modular Handrail System Kit comes with a special key for easy assembling. Our no-weld system minimises the maintenance and repair costs. It also discards the need for hot work permits and welding protection to finished surfaces. Also, damaged components can easily be replaced with the spare parts, available at www.safetyxpress.com.
Let's take a look at some of the useful applications of handrail systems:
#1 Bikeway Barriers
Handrails must be installed at the side of a bike lane, where:
The lane is adjoining the main road and it is essential to confine the cyclist from accessing the road

The path consists of a bridge or culvert

There is a large vertical drop or hazard sited near to the path
Our Ezyrail Modular Handrail System is designed to offer maximum safety for cyclists and pedestrians. Our pre-engineered handrail systems are independently load tested in order to comply with Australian standards for bikeways and paths. Our handrails are manufactured using high-quality galvanised steel that reduces corrosion and offers a smoother and safer finish.
Applications:
Bike Lanes

Footbridges

Protection over culverts

Shared pedestrian paths
#2 Commercial Places
A continuous handrail or any other barrier needs to be installed along the side of any stairway, ramp, balcony, deck, mezzanine, veranda, floor, corridor, access bridge, roof or any delineated path of access to a facility. Installing handrails help in preventing falls and injuries from elevated areas and retaining walls.
Our handrail system is manufactured using high-quality galvanised steel that complies with the Australian Standard AS 1428.1-2009 and standard building codes.
Our extensive range of safety handrails is a perfect combination of functionality and aesthetic design. They are highly durable, sturdy and corrosion resistant and can withstand the harsh Australian weather conditions.
Applications:
Access and fire stairs

Sports and recreation centres

Car parks and retaining walls

Disability and Disabled access stairs and ramps

Public transport

Culverts and footbridges
#3 Industrial Applications
Falls at the workplace continues to be a major safety issue for business owners. Although there are many aspects that add up to workplace falls, most of the injuries are due to falls from a higher surface.
Installing handrails is one of the easiest ways to prevent falls and slips. It also aids in providing support to assist employees climbing up and down stairs, ramps or other walking/working platforms.
Our Ezyrail Modular Handrail System provides safety for employees working across service platforms, mezzanines or any kind of elevated surfaces. It also works great as a physical barrier for separating forklifts and pedestrians in the workplace. Made from hot dip galvanised steel, our safety rails can also be powder coated Safety Yellow which minimises people and vehicle accidents.
Applications:
Warehouses

Service platforms and loading bays

Mezzanines

Car parks and retaining walls

Community centres

Footbridges, pedestrian pathways and culverts

Roof areas and fall edge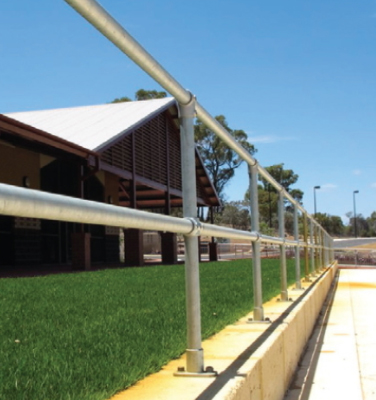 #4 Stairways
In order to ensure the safety of their employees, employers should install a handrail system and stairway railing as a good safety precaution. While handrails offer support as a handheld, the stairway railing acts as a barricade to prevent falls from the sides of the stairways.
As public spaces and businesses work towards making their working areas safe and handicap-accessible, standards of handrails are becoming stricter. At Safety Xpress, we'd like to help you stay ahead of varying accessibility standards.
We offer high-quality, low maintenance and no-weld handrails and accessories. With years of industry experience and in-depth knowledge, we know how to ensure that your business is safe and compliant with Australian Standards. We also ship our modular handrails Australia wide, making your work as easy as possible.
If you have any questions, give us a call on 1300 049 246
We publish actionable and helpful content to help you improve workplace safety. Subscribe to our blog for regular updates.
Recent Posts
At Safety Xpress, we have 3 types of Australian compliant speed humps. All of which suit different …

Handrails are a key feature of many buildings. Also known as safety railing, handrails preve …

Staircases, walkways, pool decks, balconies - railings are found everywhere. Imagine a proper …