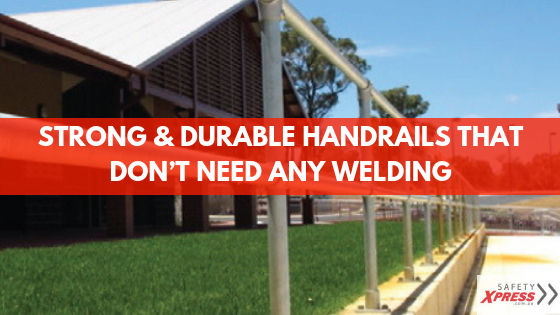 Staircases, walkways, pool decks, balconies - railings are found everywhere. Imagine a property without railings- it can certainly be very risky and prone to accidents.
You'll be surprised to know that every year falls in the workplace lead to numerous serious injuries. As per a report by Safe Work Australia, falling from a height resulted in 11% of all work-related deaths in Australia.
Therefore, every employer needs to be conscious about maintaining a safe workplace.
How Can Handrails Enhance Safety?
One of the most effective ways to protect people from falling is by installing handrails.
As a general rule of thumb, every unprotected platform, roof edge, staircase, walkway edge or raised area that is over 900mm from the ground, should be fitted with handrails.
Why Consider Installing Handrails at Your Workplace?
Handrails can offer safety and protection to workers working on a raised platform or in restricted areas. Here are a few more benefits of handrails:
Prevents falls

Maintains balance on the steps and platforms

Enhances safety during bad weather

Helps in carrying unwieldy loads
If you are considering installing handrails at your workplace, you will be glad to know that installing handrails is neither complicated nor expensive.
We, at Safety Xpress, have an effective system of handrailing called Ezyrail.
This handrail system doesn't need any welding and so reduces the difficulty of installing and repairing handrailing while maintaining regulatory compliance. Install this handrail in places where people and vehicles mix. It works as a physical barrier to separate pedestrians and forklifts in the workplace.
In addition, our handrails are fully galvanised to stand up to the toughest weather conditions.
Extensive Features of Our Ezyrail Handrail Range:
Easy Installation & Maintenance
Absolutely no welding is required to install Ezyrail. This has also alleviated the need for hot work permits or to carry massive welding equipment. Our Ezyrail Modular Handrail System Kit comes with an "Allen" key to firmly tighten the parts. It also encourages rapid construction of varied structures with minimum tools required. Made from high-quality steel, the cleanliness and maintenance of Ezyrails are extremely easy.
Made using high-quality galvanised steel, our handrails are highly durable and sturdy. They are corrosion resistant and are able to withstand the harsh Australian climate. They are also much lighter in weight - making them less costly as well as easier to handle in transit.
How to Ensure Your Railings Are Safe
Simply installing handrails is not adequate to ensure safety. Follow these three important steps ensure your railings are absolutely safe.
#1 Abide By Building Codes
Railings are not optional. They are highly effective in enhancing safety and are required for compliance in many commercial and public spaces. Ensure that your railing adheres to all applicable building codes (Note: regulations may vary as per the location).
However, most of the regulations define crucial criteria like where handrails are required, railing height, rail continuity, the height of the bottom rail from the ground surface, obligatory railing height and so on. These codes are particularly important if you're installing a railing at your commercial space, as you'll need to ensure that it is accessible for people with different ability levels.
#2 Handrails as Per Australian Standards
Our Ezyrail Modular Handrail System has been designed to comply with the Australian Standards AS 1428.1-2009.
So, when you buy handrails from Safety Xpress, you can be completely stress-free that our handrails comply with all Australian standards. Rest assured that installing Ezyrail for your project or architect specified job, all requirements will be met and standards complied with.
#3 Shop From A Reputed Supplier
A little research can go a long way. Make sure to buy handrails only from a reputable supplier and manufacturer. Review the components and design of handrails along with the company's reviews and warranty. If you want to save yourself all the hassle, check out the new range of Ezyrail only at www.safetyxpress.com.au. Our range of safety handrails is a perfect combination of functionality and aesthetic design.
Safety and reliability are our main concerns, with top-notch handrails, we ensure the best safety aspects for you and your employees.
We deliver to all major Australian cities including Melbourne, Sydney, Adelaide, Brisbane, Gold Coast (QLD), etc.
Let us work together to make your workplace safe and secure!
Get Your Handrails Professionally Installed
Our handrails are hassle-free and you can install them yourself.
But, just In case, you don't have the time or need a hand with handrail installation – we would recommend Durasafe. They are our professional installers, equipped with appropriate tools and hardware. The guys are professional and well aware of the various building codes. This also means your handrails will be installed as per Australian standards.
The Durasafe team are the specialists at installing handrails and other safety products whilst maximising safety at your workplace. With Durasafe you can be assured that your OH&S comply with your industry's regulations.
For any information related to our safety products or installation service, feel free to get in touch with us on 1300 049 246.
Find more tips and help about safety products on our blog.
Recent Posts
At Safety Xpress, we have 3 types of Australian compliant speed humps. All of which suit different …

Handrails are a key feature of many buildings. Also known as safety railing, handrails preve …

Staircases, walkways, pool decks, balconies - railings are found everywhere. Imagine a proper …